Hell-o Joe 

#1: When and how did you get involved with SPAH
My first  SPAH was Detroit 1990.  I believe that the first year I volunteered was Memphis 1994 and have tried to be as involved as I could in every successive year.
 
#2: When was your first teach in?
I honestly don't remember.  Probably about 12 years ago or so.  It really was something that evolved.
 
#3: What is your favorite thing about SPAH?
Easy one.  The broad variety of people and astonishing array of talent shared almost always with enthusiasm and humility.
#4: What do you have planned for this years teach in ? Who will be there
Mostly the usual suspects.  Jerry Devillier first comes to mind with his extremely unique approach to playing based off the endangered Cajun harmonica tradition.  James Conway will be back with his mind blowing approach to playing Irish music.  Always great to have Jellyroll Johnson who can make the rare claim of being a full-time harmonica player who has played on numerous gold and platinum selling records while most players are just trying to make SOME money.  PT Gazell who will demonstrate his unique method for playing complicated swing and jazzy melodies and improvisations on the diatonic harp.  Cara Cooke and Lonnie Joe Howell will be helping folks with their Bluegrass and Country harp skills in addition to holding unforgettable evening jam sessions.  Two of the world's most accomplished and well known harp teachers, Steve Baker and David Barrett will also be holding mini classes and lectures.  Certainly they are both world class players too!  The incredible Will Scarlett will be back again sharing his insights and skills.  Will was already an accomplished overblow style player before Howard Levy was even playing!  Dennis "Mr. Microphone" Oellig will be available to talk about harp mics and amps.  Dennis has worked for many rock and pop legends.  Grant Dermody, one of my personal favorite players, will be teaching the Old-time harp styles.  Michael Rubin will be working with folks on playing blues on the chromatic harp and Ronnie Shellist will be working with beginning diatonic players.  Also, Brandon Bailey will be helping folks with their rhythm chops by teaching "Beat Box" harp styles.  Finally is the one and only, Jimmy Gordon!  Who knows what Jimmy will have planned!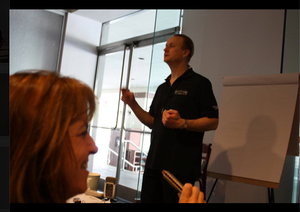 hit link on photo for more on teach in.
 
#5:Tell us about the late night jam circles how did they come about?
Most people wanted to play and many would break off into small groups.  I just decided to try and organize the concept better with a solid rhythm section and easy going rules.  I remember this happening in small bursts as early as 1991.  Sometimes the jams will last until the sun comes up!
#6:What do you hope for the future of blues  and roots music at SPAH?
All I can hope for is to do my best to expose and educate people to the mind blowing range of great music that the harmonica is capable of producing.  If people find it valuable, it shall live