Hi Tom, thanks you for the time here at Nedra's Blog.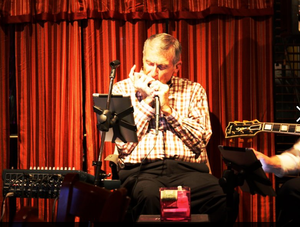 1: Tom when and how did you start playing harmonic?
 
My three cousins and I received a  280 Chromatic for Christmas when I was 15 living in San Francisco.  Fortunately, former Borah Minevitch Ray Tankersley lived nearby and we engaged him to teach us.  He moved shortly thereafter.   I moved to San Jose in 1963 and came across Ray again in 1965 at Foothill College in Los Altos, California, where he was a music teacher.  Ray would not take me on as a student so I hounded him until he gave in.  This was the time of great learning and playing in groups such as the Big Harp, Sharp Harp and Harmonica Express accelerated the journey.  San Jose had many great pro harmonica players from the past and it was a wonderful time.
2: What harmonica's do you play ? diatonic etc....
 
I started with the 280 and never varied except for occasional stints on Diatonic, Chord, Bass & Polyphonia.
3: How did you become involved with SPAH?
I learned of SPAH in 1970s.  One of the groups I was playing in was the Harmonica Express with Al Smith on Chord, Ed Marshall on Bass, Kim Venaas and Dave Doucette and later, Judy Simpson Smith on Chromatics.  We all decided to attend and perform at a SPAH convention in 1980 and rest was history.  The Harmonica Express was featured every Friday evening until about 1985 when Dave Doucette passed away.  SPAH was something that was never missed from that point on.  So many friends made  and opportunities to network!  SPAH will always be important to me.
4: When did you become president of SPAH ?
 
Congtulations on the great job you have done!!! 
5: What do you hope for the future of SPAH?
 
I would like to see SPAH continue into the future as a place where all harmonica player and enthusiast can learn and enjoy the harmonica.  SPAH will celebrate its 50th Anniversary in 2013.  The harmonica landscape has changed a lot and SPAH, www.spah.org, needs to and is rising up to these changes.  Proudly, we are likely the longest reigning Harmonica Society in the world.  With SPAH is financially secure and organized, it must continue to grow its membership, currently about 850 members.  SPAH means harmonica… harmonicas come in many varieties and SPAH must continue to open its doors to support them all.  The trend in diatonic harmonicas is recognized by SPAH as is the increasing number of female harmonica players.  I would like to see the SPAH membership grow to 1000 in the near future.  As SPAH grows, more benefits are planned.  It takes a lot of time to do all of this, but thanks to a dedicated volunteer staff, it is happening.  Bottom line is that SPAH needs to continue its journey to "Preserve and Advance the Harmonica."  SPAH will have a new president soon and I am sure there are lots of new ideas on the table.
 As a female diotonic player I know I will do all in my power to spred the word about SPAH Tom!
 
6: What are your plans musically for the future?
 
Right now I have a wonderful collaboration with Jia-Yi He doing classical, pops and jazz with symphonies and pops orchestras around the world.  We recently performed together in Taiwan.  I am also planning another CD with the great Tony Luisi.  Our last CD "EastàWest Collaboration" sold quite well.  Also doing jazz gigs in the clubs and restaurants in my hometown of Reno and will continue to do this. You can always find out about my activities at www.tstryker.com.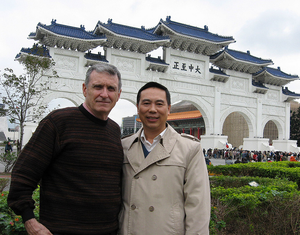 Ok all I have gone to see Tom with Julio in Reno and had the pleasure of sitting in It was a HOOT!

Visit Tom's site to keep up on dates to see him!
link on his photo I took at his great
"Impromptu" Tom Stryker on Harmonica & Jimmy Vermilion on Keyboards/Vocals


Just in This year Tom won the lifetime achievement award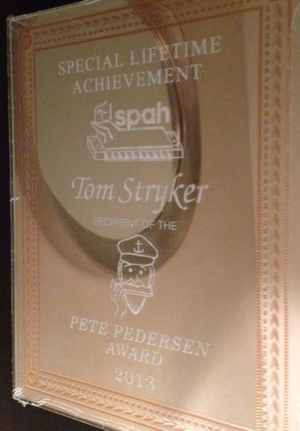 Me at the Eldorado on our way to play with the Prez!